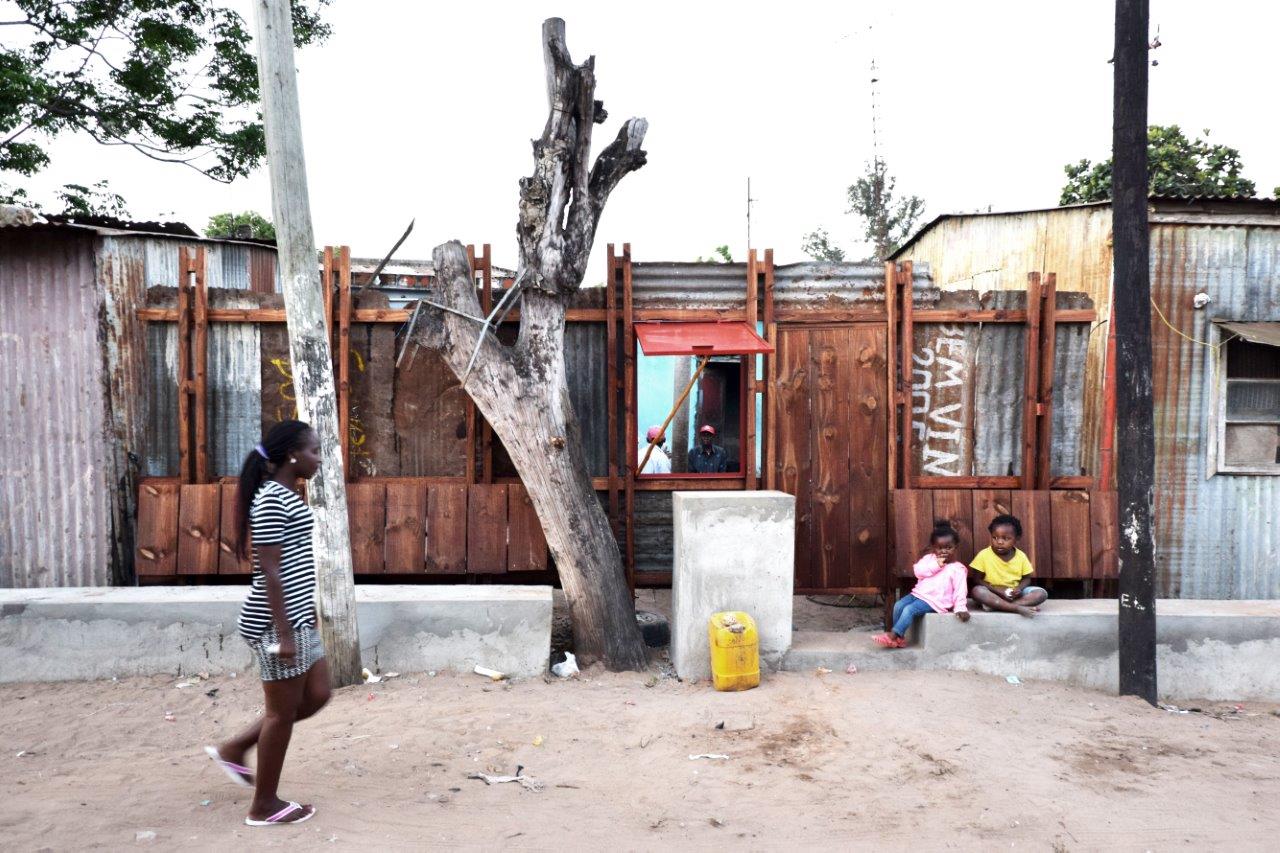 Mafalala Baraza is a small-scale public space project in the historical informal settlement Mafalala in Maputo, the capital of Mozambique. The project seeks to counter problems with street encroachment caused by lack of enforcement of urban regulation in the neighborhood. Situated in a context characterized by corrugated iron sheet houses dating back to the 1930s, a local family which had appropriated part of the public space by setting up walls outside their plot boundaries was offered a new wall if they agreed to give back the street space to the public. The project was carried out by Danish and Mozambican architecture students, who developed a multitude of designs, seeking to improve the quality of the public space. The designs were merged into a final project reinterpreting the local 'baraza' – a bench on the side of the street marking the transition between public and private. The corrugated iron sheets from the old wall were reused and reclaimed tires filled with concrete were utilized as prefabricated foundations. The design includes a window and an exterior table for selling vegetables. Per request from the family the project included a new latrine, improving the sanitary conditions.
As informal settlements do not have formal boundaries between public and private, the physical divisions are produced by negotiations between residents and local authorities, resulting in encroachment on the streets, whereby the residents slowly alter the physical barriers marking their plots to take over parts of the street space. This development causes a multitude of problems, including decreased access for public services, decreased cost-efficiency of infrastructural investments, and issues of formalizing the landownership. Accordingly, street encroachment leads to unsanitary cities, as it increases problems with solid waste management as well as sewage and storm water management systems.
While public investments are rare in informal settlements of Maputo, the common space plays a crucial role as people often live in small homes and overcrowded conditions. The streets, alleys, markets, and football fields are the primary public spheres where people socialize and interact. The overlap between public and private is essential as commercial functions extend into the homes and onto the streets. A table with vegetables placed outside of an entrance to a home is a shop. A hole in the wall, a freezer and a few stools on the street is a bar. A few chairs under an improvised roof is a hair salon. These essential functions are manifested in physical form with minimal resources in ways that are unseen in the formal city. Such themes were processed in discussion, drawing, and construction through the workshop where students produced a small-scale urban intervention to improve the public space in Mafalala.
The project was carried out in collaboration with Faculdade de Arquitectura e Planeamento Físico – Universidade Eduardo Mondlane, KADK – The Royal Danish Academy of Fine Arts, Schools of Architecture, Design and Conservation – Institute of Architecture, Urbanism, and Landscape, Laboratório Mafalala, and Associação IVERCA.